REVEALED: Interest rate collapse saves home buyers thousands
The pandemic recession will end up delivering savings worth tens of thousands of dollars to the nation's home buyers due to a collapse in mortgage interest rates.

by Anna Ferenzo
Lead writer, www.precisionadvisory.com.au
Data compiled by Canstar reveals the extent of the drop in mortgage rates through 2020 that will deliver ongoing benefits to those buying new or refinancing their existing home loan.
At the start of 2020 a person with a $300,000, 25-year mortgage faced an average variable mortgage rate of 3.73 per cent. The monthly repayments on such a loan were $1539 and over the life of the mortgage the buyer would repay $461,739.
By year's end, the average interest rate on a $300,000 mortgage had fallen to 3.32 per cent. The monthly repayment is $1473 with the buyer repaying $441,920 over the life of the mortgage.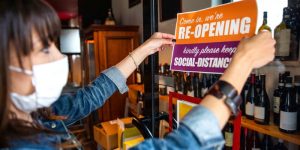 The savings have been even bigger for those able to sniff out the lowest mortgage rates on the market.
At the start of the year, the best rate was 2.69 per cent which meant monthly repayments of $1375. The best rate now is around 1.99 per cent with a monthly repayment of $1280.
No time to read the article?
Find out if you're eligible for the Coronavirus Guarantee in 60 seconds.
Access up to $250,000 in an unsecured loan, with no repayments for up to 6 months.
CHECK ELIGIBILITY
What Is The Government's Coronavirus SME Guarantee Scheme?
To support small businesses, the Government has shown its support by providing emergency and immediate financial relief to businesses that need it.
This is why in April 2020, the Government introduced the 'Coronavirus Small and Medium Enterprises (SME) Guarantee Scheme'. Under this scheme, the Government will guarantee 50% of new loans issued by eligible lenders to small and medium businesses.
What does this mean to small businesses?
This means that small businesses will be able to tap into the Government's $40 billion in guaranteed loans to help them manage any cash flow issues that they're having at this time.
At the moment, small businesses can borrow 100% of their loans as an unsecured loan.
This means that they don't need to mortgage their houses or cars in order to keep their businesses afloat.
The best thing is, the loans go up to $250,000 and a 6-month holiday repayment plan.
This means that if they borrow before the scheme ends, they won't need to make any repayments for up to 6 months.
There's also a line of credit loan available, which means you continually access up to $250,000 as you need it.
The cash can be used for anything business-related. Such as paying staff, rent, or even some expansion.
Who's Eligible For The Scheme?
To be eligible for the scheme, you need to have an active ABN, with turnover of less than $50 million in the previous financial year, or expected for the current financial year.
Both self-employed individuals and non-profit businesses are eligible.
However, it's not that simple, as the scheme is subjected to credit assessment based on the lender's lending criteria.
But, lenders are applying some 'common sense' to take in account the uncertainty of the economic conditions.
CHECK ELIGIBILITY
The simple way to see if you are eligible for the scheme.
To make it easier for you, we've created a quick apply wizard that will allow us to review your business info and make sure you are eligible.
It only takes 30 seconds to complete our Smart App Wizard.
After you complete the app wizard we will contact you to discuss your options. Of course, it's all obligation-free and nothing goes on your credit report.
Share this Article